Nowadays, it is difficult to imagine a modern person without a mobile device. The Internet has become available everywhere thanks to Wi-Fi and affordable cellular rates, so you can now stay online while at work, school, on the road and on vacation. It is important to find contact with the target audience in those areas where they spend most of their time, and now it is the mobile Internet.
When a client requires the services of a clinic, he/she does not want to waste time waiting for a response from the call center. And it is far from always convenient for people to make an appointment or diagnosis with a doctor using a call, to voice the area of ​​activity of the specialist they are going to contact: personal information should remain personal. It is the mobile application that will save your future visitors from unnecessary inconvenience. It is also widely known that it is inconvenient to browse even the most stunning site from a smartphone.
MDM is one the best medical device software development companies that provide a full range of mobile/tablet application development services to medical centers – from analysis and concept development to practical implementation and implementation.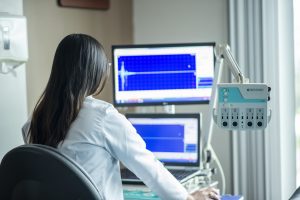 Why are mobile medical apps profitable for medical centers?
Increased efficiency – Having all the necessary patient information and reference materials always at hand, the specialists of the clinic or medical center will be able to see more patients at the same time and pay more attention to each of them, which means better service.
It saves time for your staff – You can create a mobile application for the clinic, which will be integrated with a centralized database. Then every doctor can easily view the patient's electronic medical record, medical history, test results from a tablet or smartphone, and make a new entry.
It would be a good idea to make a mobile application for a medical center that sends patients to their mobile devices regular alerts about news, promotions, special offers, appointment reminders.
Customer loyalty – No doubt, people will choose those clinics where they will have full and convenient access to all their medical data and where they can get all the important information easily, make an appointment or view test results without leaving their home.
Enhance patients awareness – Having mobile/tablet applications, you can make mailings, tell about news, promotions and give other information. This is how one-time clients turn into regular ones.
MDM has experience in developing mobile applications for medical purposes. We offer to develop a medical mobile application for Android/tablet. Development of mobile/tablet applications for medical centers is a good way to improve the quality of services, stand out from competitors and gain customer confidence. We will be glad if our experience and knowledge will help you when creating projects related to human health.
Our own service department makes it possible to more fully and widely meet your needs, providing service, warranty and post-warranty for Medical Device development services as well as software development services.